Categories
A Civil War letter, the witch finder's guide and the last letter from Lawrence of Arabia
Dr Sarah Demelo was helping a researcher when she came across a handwritten letter pasted into a book. The letter was penned by Sir Thomas Fairfax, the Parliamentarians' commander-in-chief during the English Civil Wars. What is it like to discover such a document among the millions of items housed in the UK's network of "special collections"?
The Special Collection at Essex University lives within its own micro-climate where the temperature is rigidly kept between 18C and 20C (64F to 68F) and the humidity level between 40% and 60%.
Within its collection of between 20,000 and 30,000 items is an 18th Century copy of Philip Morant's The History and Antiquities of Colchester.
In the summer of 2020, Dr Demelo, the head of the special collections at the university's Albert Sloman Library, opened up the book to help a visiting researcher.
"He had an appointment to do some research on the Dutch refugees in the 17th Century in Colchester," Dr Demelo said. "I was helping him with his research and I looked at Philip Morant's History of Colchester, which is a well-known book about the area, and was flicking through the pages and just happened to come across a letter which looked to be in the hand of General Sir Thomas Fairfax.
"I saw it and, because we do have quite a bit of original Siege of Colchester material, I do know quite a bit about it so when I saw it, I did squeal and had a little moment, but then there are lots of questions."
The authenticity of the letter – addressed to a wealthy Justice of the Peace called George Walton, who lived in Great Burstead in Essex – has now been established.
"It took some verification and we found it was indeed signed by him and has his seal and it is dated 1648," said Dr Demelo.
"The letter was essentially a pass given to wealthy gentlemen during the Second Civil War which allowed them to travel "unmolested" by the Parliamentarians' New Model Army.
"In this instance, Mr Walton could keep his horse and his possessions."
---
"Permit him to pass about his occasions without any lett or molestacon"
The text of the letter from Sir Thomas Fairfax
---
In return, Mr Walton would have pledged his allegiance to Oliver Cromwell and possibly made a payment towards the Parliamentarian cause.
"Nobody had seen that letter," said Dr Demelo.
"I spoke to my predecessor here of 30 years and he had not seen it and when I spoke to the Essex Society of Archaeology and History, which owns the collection in which this book forms a part, they said 'oh, we had heard rumours about that, but we had completely forgotten about it'."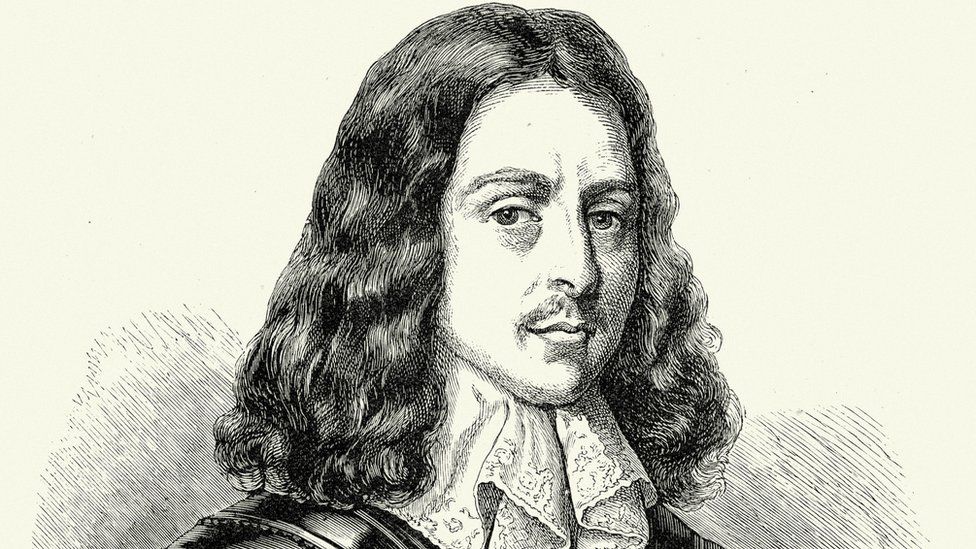 The Siege of Colchester would last 11 weeks.
"You know with the letter from Fairfax in February of 1648 that four or five months later the Siege of Colchester happens and it was a terrible time and people starved," said Dr Demelo.
The letter was one of a number of items the original owners of the book had pasted in to the volume's Siege of Colchester section.
"You do come across lots of items that are tucked away in books," Dr Demelo said. "You often find personal notes, inscriptions, notes to others, notes to oneself and it is fascinating because you get to see the person behind the book.
"Part of our duty in archives and special collections is to be caretakers and to ensure that the books, artworks and everything [are kept safe] so that something that is 400 years old can be seen in another 400 years."
While the Fairfax find might be the most exciting letter in the university's collection, it is not the most moving.
Dr Demelo said that accolade might well go to a letter written by TE Lawrence.
"We have a number of letters between Jim Ede, who was a former Tate curator and the founder of Kettle's Yard in Cambridge, with TE Lawrence, better known as Lawrence of Arabia.
"It was a correspondence that went on for a number of years in the early 1930s and one of the last letters that we have from Lawrence to Ede, was from 5 May 1935.
"In it he talks about the new motorcycle that he has bought and how 'it goes like stink' and that it was a luxury."
In the letter, Lawrence talks about his joy at owning the Brough which, he says, is "altogether a marvellous machine" and compares it with a Rolls-Royce car.
"Within a month he would be in an accident on that motorcycle and it would take his life," said Dr Demelo.
"To have that foresight when looking at some of this material, you do see the person behind it – from tragedy to happiness, all those things that make humanity what it is, really."
One of the most unusual parts of the collection are the five separate copies of the Malleus Maleficarum that all belonged to the same man, a baker's son who rose through the ranks of the church to become Archbishop of York.
Born in Colchester in 1561, Samuel Harsnett built up an extensive and varied library, many of which were theological titles.
"But he also looked at witchcraft, demonology," said Dr Demelo, "and he had five copies of the Malleus Maleficarum, originally written by Heinrich Kramer.
"The versions we have were by Jacob Sprenger, so the copies that we have are from the mid-16th Century.
"One of the things with special collections is that what might look like a little simple book could be incredibly dangerous.
"What was written in it was used to justify the murder and torture of innumerable men and women just because they thought differently. It was basically an outline of how to torture to extract a confession. Some of it was extraordinary.
"There's a section in it outlining what to do if a witch takes your penis and, yes, we might look back on it and guffaw but this was a serious matter, and people died because of these books and these ideas."
Dr David Prosser, executive director at Research Libraries UK, said the type of material held in special collections across the UK was "rich and varied".
"What we have in the UK is this amazing network which stretches from the bigger institutions such as the British Library and the National Archives to the various special collections held by our universities right the way through to local libraries and museums," he said.
"Sometimes, what is important is the content of a particular item. Sometimes it is the context that is important. And at other times what is important is what is hidden, such as the Fairfax letter."
He said a key area of work by those involved in special collections was outreach work in which various objects are taken out into public spaces, such as schools.
"It helps make history come alive," he said.
However, those involved in caring for the heritage held in libraries, he said, were concerned about how such collections would be protected.
"Conserving, managing and cataloguing is highly skilled work and, while within the academic library community we feel very privileged to do what we do, we know some areas are struggling in terms of finance," he said.
"The fear is that some of the collections, especially at the local authority level, don't have the resources they need.
"The collections we hold help us to understand our past and to see the path that has led to the world in which we live in.
"Each item in our collections is an additional piece of evidence, a brick in that path.
"If we fail to adequately care for these collections, or reduce our acquisition of contemporary material, we reduce that understanding, resulting in a diminished sense of who we are."
Originally written for BBC News and published on 20 March 2022