Categories
The message never sent: "Maybe going to die in the container, can't breathe any more dear."
The following piece was written and produced for BBC News Online and was published on 21 December, 2020
---
"Maybe going to die in the container, can't breathe any more dear," read a text message typed by Pham Thi Ngoc Oanh. It was never sent. What led to her and 38 fellow Vietnamese nationals dying in the dark and sweltering heat of an airtight container?
Driver Maurice Robinson pulled his articulated lorry over on a largely deserted Essex industrial park.
He got out of the cab, went to the rear of the trailer and opened the doors.
Inside was an almost unimaginable sight: 39 people, 10 of them teenagers, were dead.
Instead of immediately dialling 999 in the early hours of 23 October, 2019, the 26-year-old's first instinct was to get back in to his cab and drive off from the estate in Grays, with the bodies in the trailer behind him.
An international criminal investigation into a major people-smuggling operation was set to begin.

'VIP package'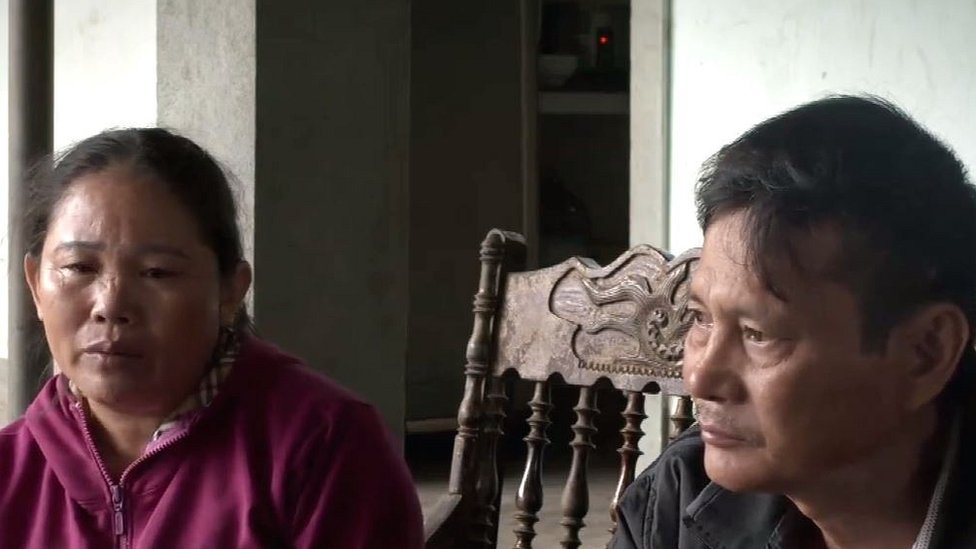 Crammed into the back of Robinson's lorry were two cousins who were more than 6,000 miles (9,656km) from home.
Nguyen Van Hung, who was 33, and 18-year-old Hoang Van Tiep were from the same village in Nghe An province, in the north of Vietnam.
Both men had made it as far as France – Tiep, via Russia, in 2017, and his older cousin a year later.
In September 2019, the younger cousin asked his parents if he could travel to the UK.
He persuaded them, saying he would only have to pay the £10,500 fee due to the people smugglers after he had arrived in the UK.
---
"We wouldn't transport animals in that way."
Det Ch Insp Daniel Stoten
---
Tiep's mother, Hoang Thi Ai, told the BBC why they had changed their minds.
"He told me that he would only go on a 'VIP package', in a private car," she said. "He said he would not go in a container lorry and that it needed to be safe, even though the truck option was a lot cheaper."
His father, Hoang Van Lanh, believed his son was tricked, possibly at the last moment.
"I don't know what happened but something must have changed in their plan, or he was scammed," he said.
Nguyen Van Hung's mother, Pham Thi Lan, agreed.
"No-one would choose to travel in such a dangerous way," she said.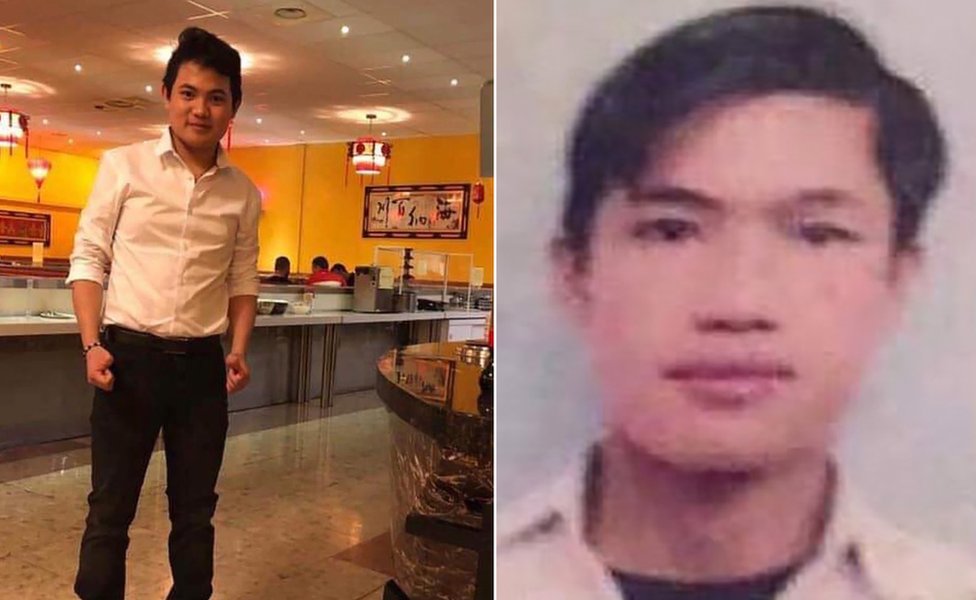 Matthew Long, deputy director of National Crime Agency, said the whole idea of some kind of special service was a con.
"There is no VIP service – these are the lies people are told to be exploited," he said.
"And finding out at the very last minute, and realising as you die, that the VIP service was a terrible lie, is exactly what you see from these organised crime groups. "
Det Ch Insp Daniel Stoten, of Essex Police, said: "They are callous and they are dangerous and they are out to exploit these people.
"We wouldn't transport animals in that way."

Journeys across the globe
The stories of the 39 show their journeys from Vietnam were often done in stages.
Many travelled to other countries in Europe, such as Poland and Russia, before being drawn by the prospect of finding better-paid work in the UK, a lure that saw them move west to France or Belgium before crossing the North Sea.
Some wanted to work in nail salons while one of the 15-year-olds who died said he would find work in an illegal cannabis farm.
Many of the 28 men, eight women and three boys found dead in the trailer were in Paris the day before their deaths.
From the French capital, they had made their way to a town called Bierne, in northern France.
It was here that a number of people were seen being delivered by taxi to an agricultural shed, before later clambering into a lorry.
From this point onwards, a sensor inside the trailer tells its own story of a relentless rise in temperature.
From Bierne, the lorry is seen on CCTV footage making its way across France and towards the Belgian port of Zeebrugge, where it was left to be loaded unaccompanied on to a ferry called the MV Clementine.
The ship left Zeebrugge in the middle of the afternoon, bound for the port of Purfleet-on-Thames, in Essex.
During the voyage, the temperature rose from the high 20s all the way up to 38.5C (101F), by which point the air was too toxic for human life.
Those inside had stripped to their underwear in the sweltering heat and tried to bash their way out of the trailer's roof. Officers discovered a metal post on the lorry floor.
First to the scene were paramedics from the East of England Ambulance Service, who were praised by chief executive Dorothy Hosein for their "incredible professionalism in very difficult circumstances".
All of the paramedics who attended that night were offered "enhanced support" from the service's well-being team in the aftermath, she said.
More than 1,300 Essex police officers were involved in the case.
PC Jack Emerson was one of the first at the scene.
He described how he desperately searched for "signs of life", a pulse or a breath. He found none.
"I could visibly see numerous half-naked bodies in the back of the trailer, lying on the trailer floor motionless," he said.
The bodies were packed so tightly together, he said, that he could only check "the bodies I could reach".
Post-mortem examinations found they died of overheating and a lack of oxygen.
Det Ch Insp Stoten said: "The officers who attended that – most of them were very young in service and some of them had never experienced a dead person, a deceased person, before.
"They did a brilliant job and they put us in a really strong position to continue the investigation."

'Don't let them out'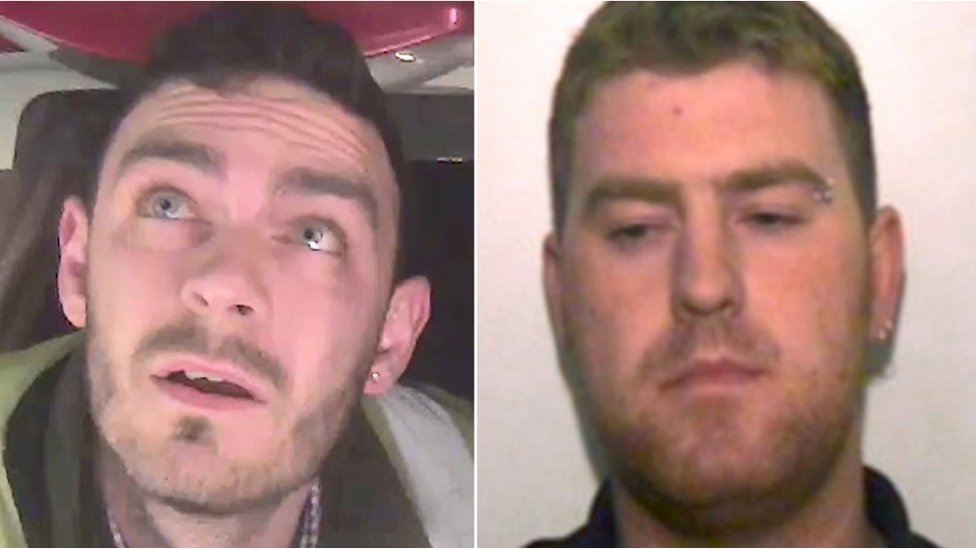 At 00:30 GMT on 23 October, 2019, the MV Clementine docked at Purfleet-on-Thames. A port worker who drove the trailer off the ship later reported noticing a pungent smell that was "similar to waste".
Robinson had driven from Holyhead, a major Irish Sea port in north-west Wales, to collect the trailer.
Shortly after 01:00, having picked up the trailer, Robinson got a SnapChat message from Ronan Hughes, his 40-year-old haulage boss from County Monaghan, Ireland.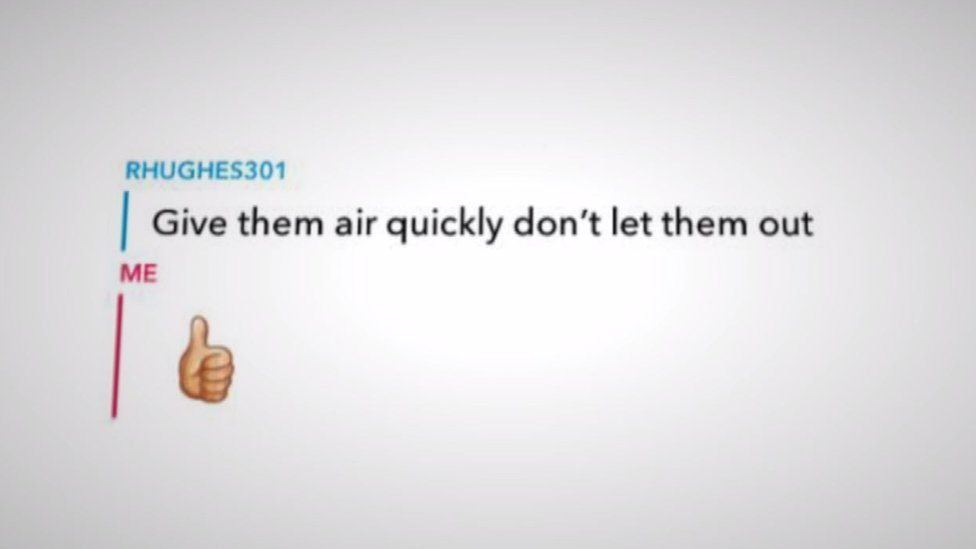 The message said: "Give them air quickly don't let them out".
He slowly brought the lorry to a stop at the industrial estate, got out of the cab and opened the trailer door. He saw what was inside and stepped back before closing the door.
Robinson, of Craigavon, County Armagh, returned to his cab before driving off and making his first call to Hughes.
That call between Robinson and Hughes then triggered a flurry of further communications between other men involved in the trafficking operation.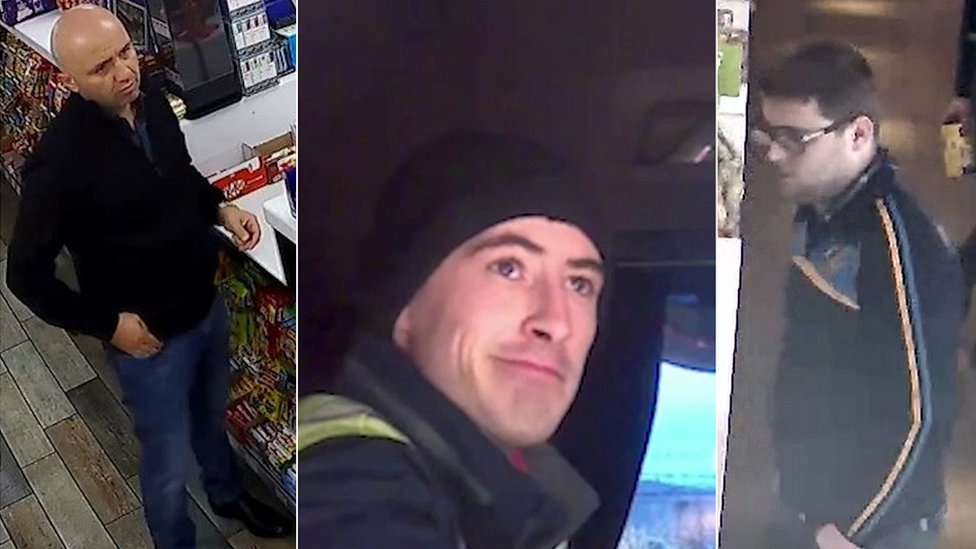 One of them was Gheorghe Nica. He was one of the organisers of the smuggling operation but denied involvement in the lethal trip. Nica claimed he told Robinson not to move the trailer and to call 999.
After his brief drive around Grays, Robinson again parked up at the industrial estate.
He waited for 15 minutes and then dialled 999, telling the operator: "There's immigrants in the back. They're all lying on the ground. The trailer's jammed. There's approximately 25. They're not breathing."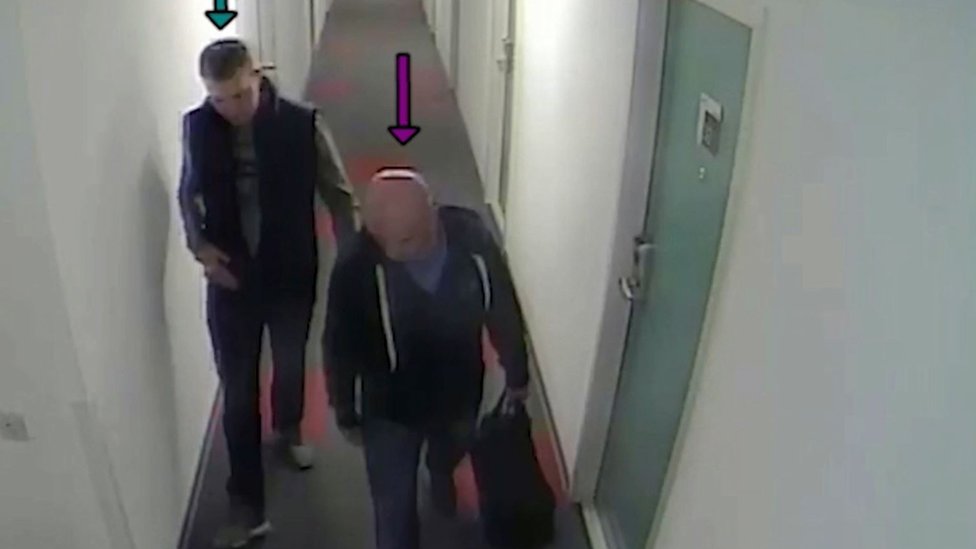 Nica flew out of the country the next day. He knew, in his own words, what had happened was "very, very bad" and that there would be a "big investigation". He was later arrested in Germany.
Along with lorry driver Eamonn Harrison, 23, he has been found guilty of manslaughter.
Both Robinson and Hughes, of Tyholland, County Monaghan, admitted 39 counts of manslaughter and conspiring to assist unlawful immigration.
Lorry driver Christopher Kennedy, 24, of County Armagh, and van driver Valentin Calota, 38, of Birmingham, were also convicted of being part of the people-smuggling plot.

Witness X
In the weeks before the tragic journey, the gang, led by Hughes and Nica, organised at least two other journeys smuggling Vietnamese migrants packed into the back of lorries into the UK.
On 11 October, about 15 migrants made the journey across the channel, though in a different trailer to the one in which the 39 died.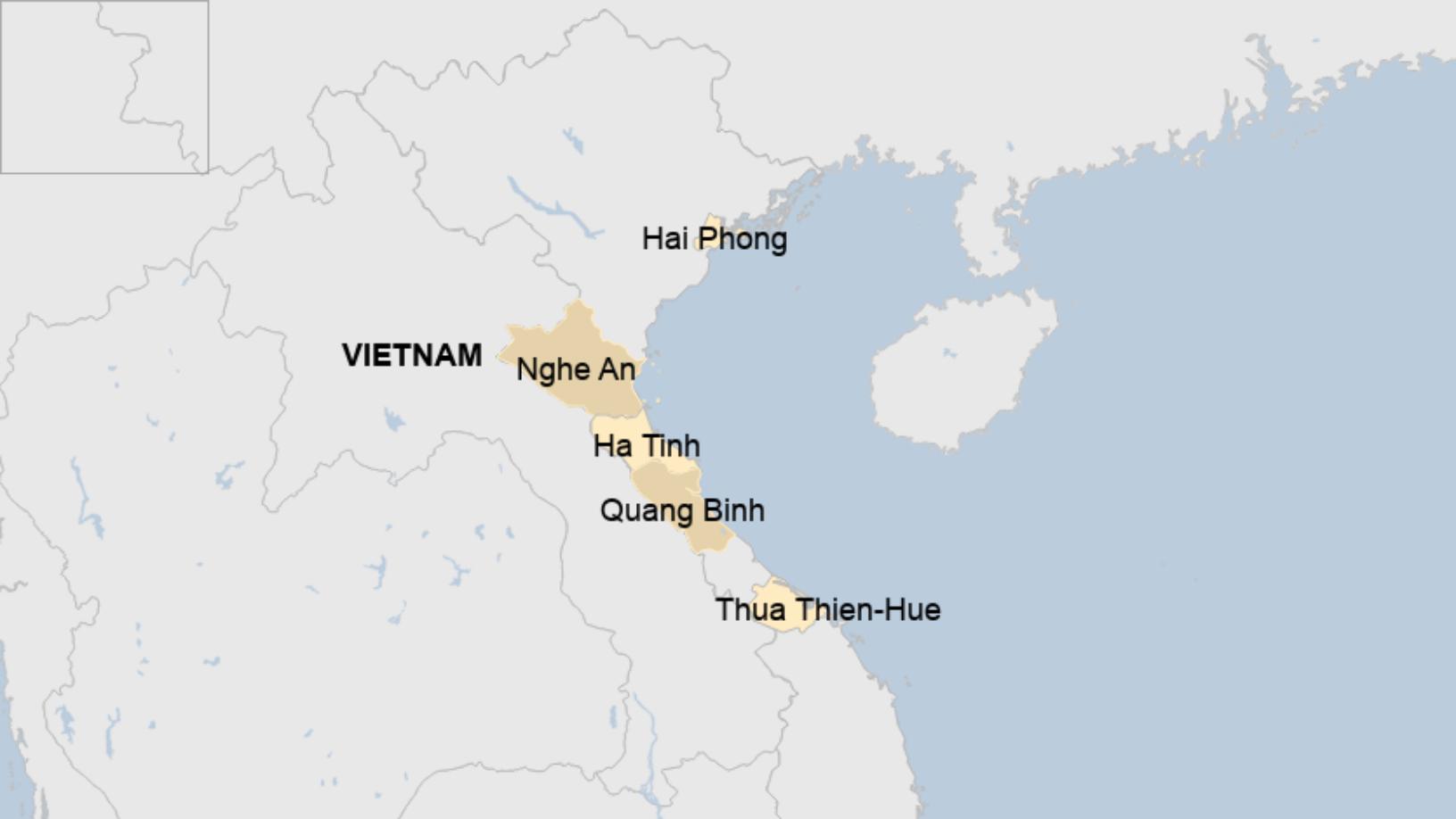 One of them, a man known to the court only as Witness X, gave evidence at the Old Bailey.
He too was seeking a better life when, in February last year, he paid up to £20,000 to a trafficker in Vietnam for a visa and a place on a business studies course in Poland.
After several months in Poland, he made the journey to France with his heart set on making it across the channel to the UK.
He had seen a friend's Facebook post showing that they had made it to London. Witness X asked that friend for help. The friend put him in touch with a Vietnamese mystery man called Phong.
Communicating on the messaging app Viber, Phong agreed to arrange the trip for Witness X for £13,000.
It is understood Phong is currently subject of further police inquiries but his full identity has not been revealed.
Witness X described how he was ushered on to the back of the trailer at a rendezvous point in northern France.
The driver of the trailer spoke only to hurry them along, Witness X told the court. Later, before the trailer was loaded on to a ferry, the driver had opened the doors and told them to "keep quiet all the time" and stand in the middle of the trailer and hold on to each other.
When Witness X finally arrived in the UK, he and the other migrants were met by a fleet of black cars at Orsett Farm, in Orsett, Essex.
Witness X was taken to Phong's house in south London, where he stayed until his parents had "paid his fare" – a fare Witness X described as "too much" for what was supposed to be another "VIP" trip.

The warning signs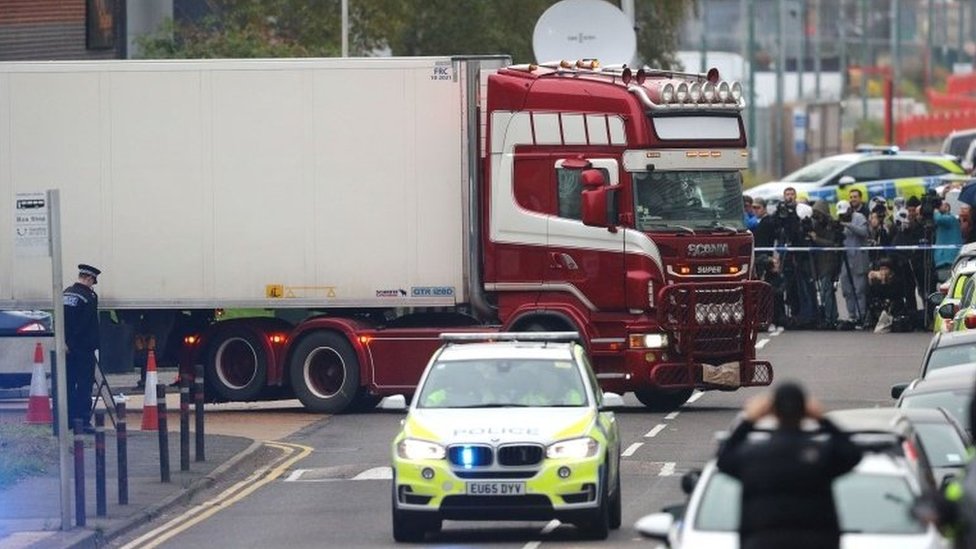 Twelve days before 39 Vietnamese people were found dead in the container, Marie Andrews was at her mobile home in Orsett, a village about four miles (6km) from Grays.
"A load of immigrants just got out of a lorry, they just got into Mercedes and all that," Ms Andrews told the 999 operator.
What she was seeing was a people-smuggling operation run by the same gang responsible for the 39 deaths.
The cars collecting the people inside the lorry drove away from the scene.
"I saw some legs come out. It was a shock, like anybody would be shocked to see this, particularly down a lane people would not know," Ms Andrews told the Old Bailey.
"I didn't take my eyes off the lorry while I was on the [999] call."
A week later, she saw the same red-cabbed lorry in front of her home, near the village golf club, during yet another smuggling run.
Ms Andrews described ringing police again after seeing the news of the 39 deaths on social media.
"I immediately recognised this cab and trailer on the news as certainly being the same one that I had seen on both 11 October and 18 October, 2019," she said.
A similar run was stopped at the mouth of the Eurotunnel at Coquelles in France on 14 October, when 20 Vietnamese migrants were discovered.
While the migrants were detained by the French authorities, the driver Christopher Kennedy was allowed to continue on his way to Kent.
Officer Maxime Saison was on duty in France that night and told how the migrants, speaking in English, confirmed they were Vietnamese and had no documentation.
A number of the migrants discovered in France were later found dead inside the container in Essex.
The deaths have been a wake-up call for police.
Det Ch Insp Stoten said: "This crime group have been stopped on many, many, occasions in Europe and the UK – and they continued.
"It's hard to say whether that would change the outcome but we have changed nationally the way that we deal with organised immigration crimes."

'No-one to hear them'
Among those killed was a married couple – Tran Hai Loc and Nguyen Thi Van. They were both 35.
They had been working legally as fruit pickers in Hungary when they phoned their families in Vietnam to tell them there had been a change in plan and they would soon be travelling to the UK.
They were found on the floor of the trailer holding hands.
Police ensured they were taken to the mortuary, and then had their post-mortem examinations carried out, together.
They leave behind two children in Vietnam.
---
Human trafficking
Numbers of Vietnamese people reported as potential human trafficking victims in the past three years:
2,039 people found in the UK
939 of whom were children
Source: National Referral Mechanism
---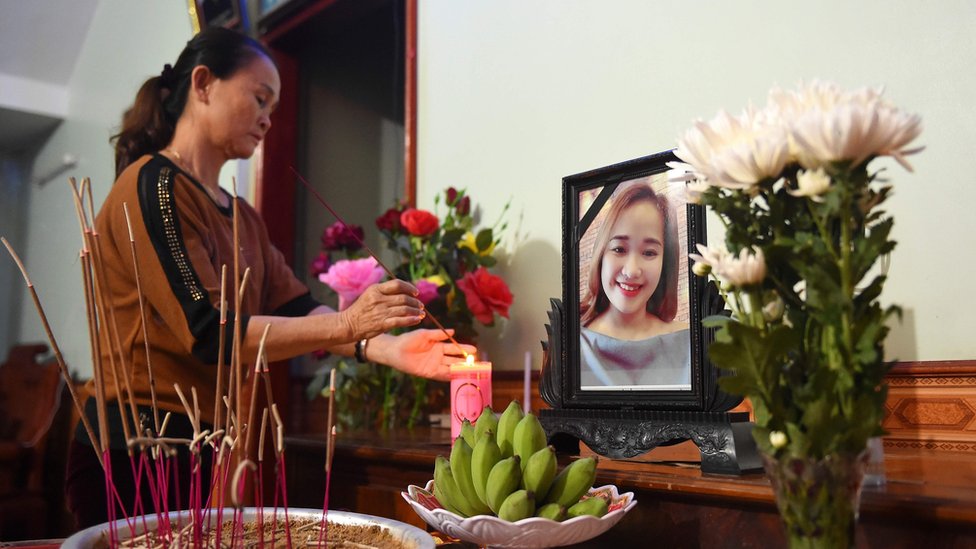 The journey of 23 October and the earlier failed run on 14 October were connected, said Bill Emlyn Jones, who prosecuted the case.
Thwarted in France, he said, the smugglers were possibly attempting to "do two loads in one".
"This time, they simply had too many people on board," he told the Old Bailey. "They loaded too many people into a single trailer… the people smugglers were under pressure to double up.
"For the 39 men and women inside, that lorry had become their tomb.
"On that boat in the night, there was no-one to hear them and no-one to help them."

The 39 victims:
Pham Thi Tra My, a 26-year-old woman from Ha Tinh
Nguyen Dinh Luong, a 20-year-old man from Ha Tinh
Nguyen Huy Phong, a 35-year-old man from Ha Tinh
Vo Nhan Du, a 19-year-old man from Ha Tinh
Tran Manh Hung, a 37-year-old man from Ha Tinh
Tran Khanh Tho, a 18-year-old man from Ha Tinh
Vo Van Linh, a 25-year-old man from Ha Tinh
Nguyen Van Nhan, a 33-year-old man from Ha Tinh
Bui Phan Thang, a 37-year-old man from Ha Tinh
Nguyen Huy Hung, a 15-year-old boy from Ha Tinh
Tran Thi Tho, a 21-year-old woman from Nghe An
Bui Thi Nhung, a 19-year-old woman from Nghe An
Vo Ngoc Nam, a 28-year-old man from Nghe An
Nguyen Dinh Tu, a 26-year-old man from Nghe An
Le Van Ha, a 30-year-old man from Nghe An
Tran Thi Ngoc, a 19-year-old woman from Nghe An
Nguyen Van Hung, a 33-year-old man from Nghe An
Hoang Van Tiep, a 18-year-old man from Nghe An
Cao Tien Dung, a 37-year-old man from Nghe An
Cao Huy Thanh, a 37-year-old man from Nghe An
Tran Thi Mai Nhung, a 18-year-old woman from Nghe An
Nguyen Minh Quang, a 20-year-old man from Nghe An
Le Ngoc Thanh, a 44-year-old man from Dien Chau
Pham Thi Ngoc Oanh, a 28-year-old woman from Nghe An
Hoang Van Hoi, a 24-year-old man from Nghe An
Nguyen Tho Tuan, a 25-year-old man from Nghe An
Dang Huu Tuyen, a 22-year-old man from Nghe An
Nguyen Trong Thai, a 26-year-old man from Nghe An
Nguyen Van Hiep, a 24-year-old man from Nghe An
Nguyen Thi Van, a 35-year-old woman from Nghe An
Tran Hai Loc, a 35-year-old man from Nghe An
Duong Minh Tuan, a 27-year-old man from Quang Binh
Nguyen Ngoc Ha, a 32-year-old man from Quang Binh
Nguyen Tien Dung, a 33-year-old man from Quang, Binh
Phan Thi Thanh, a 41-year-old woman from Hai Phong
Nguyen Ba Vu Hung, a 34-year-old man from Thua Thien-Hue
Dinh Dinh Thai Quyen, a 18-year-old man from Hai Phong
Tran Ngoc Hieu, a 17-year-old boy from Hai Duong
Dinh Dinh Binh, a 15-year-old boy from Hai Phong