What do the new inflation figures mean for those already struggling to make ends meet?
New figures show that soaring food costs and the energy bill crisis are driving up prices at their fastest rate in almost 30 years, squeezing living standards. What does inflation mean for those already struggling to make ends meet?
The Westraven Community Cafe, in the Ravensthorpe area of Peterborough, is a place where people come to get a cup of tea, a bite to eat and to catch up with friends.
It is also a lifeline to dozens of people in the community who are facing ever-increasing bills.
Inside the cafe there is a special pantry where people can buy various food items at heavily discounted prices. And for those who need it, the cafe staff pack bags full of food items which are given out weekly to those struggling.
For those at the cafe, the latest economic statistics – showing inflation surged to 5.4% in the 12 months to December – is not really news. They have been feeling the rising prices in their pockets month after month.
---
'I'll just have to make more sacrifices'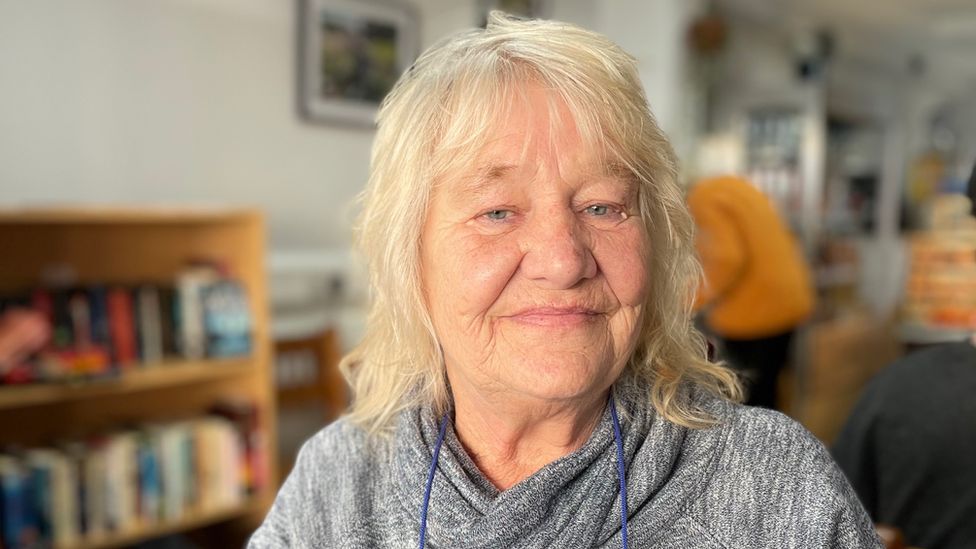 Anne Lewis lives alone and her thermostat is currently set to 18C (64F).
The 72-year-old, who retired after working in retail and in hospitals, says she is noticing the rising cost of living.
"So much so," she says, "and I'm dreading the cost of fuel going up and how that will impact on me with my household bills.
"Electricity and gas prices, they are really worrying me at the moment. I don't know what is going to happen or how I will be able to afford it.
"You find yourself asking whether you leave the heating off for a bit longer each morning or do you go out and buy more food? I tend not to put the heating on until I really need it on.
"I'll just have to make more sacrifices because that is what you do. That's how you get on with it."
She discovered the community cafe when she passed it one day during the pandemic and noticed people gathering outside.
"You can buy food from the shelf here and it is so cheap and affordable or when there is free food outside you can take what you like," she says.
"It has been a life-saver for me. In the early days of the pandemic, everywhere was shut and I was at home on my own.
"When I found out about this place I found they had so much on offer – that kept me going and it helped me so much financially as well.
"I'm careful with my money but I use this as a first port of call. They've been my saviours."
---
'We struggle a lot more at the minute'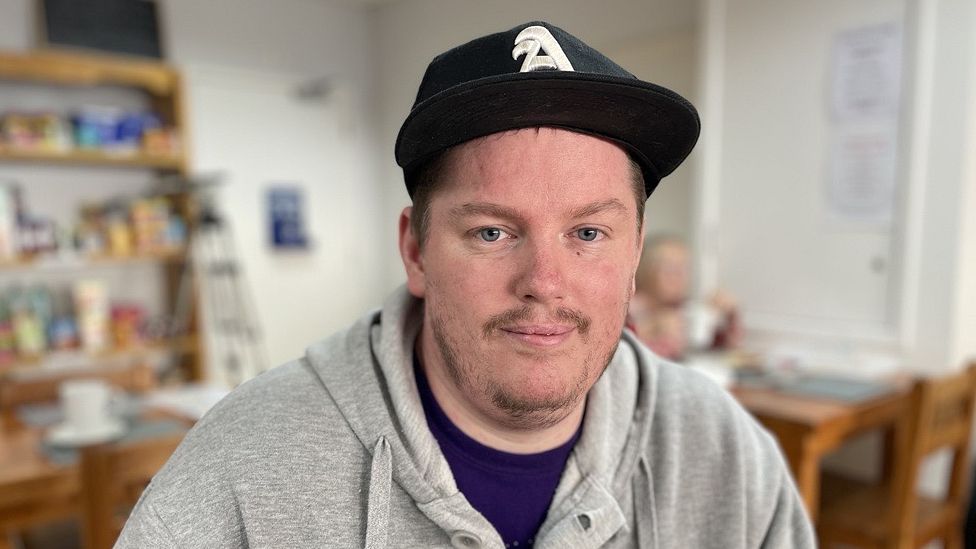 Father-of-two Aaron Jones, 35, works both as a security guard and for a nearby charity shop.
He says he and his partner are having to make their budget stretch further and further each month.
"We struggle a lot more at the minute. Obviously the pandemic has hit a lot of people. But this building here has helped us a lot," he says.
"They used to bring us food to the backdoor and hampers if we ever needed it."
He says meeting the general cost of living – particularly rising food prices – is proving an ever-growing struggle.
"It helps out a hell of a lot, especially considering we've got two boys (one aged five, the second aged 13)," he says.
"It really does help. During the pandemic we really struggled and had to rely on this and the school.
"That's the only way we seemed to have got through.
"We've had a lot of help here over the years and we are very grateful."
---
'Gas and electricity prices have rocketed'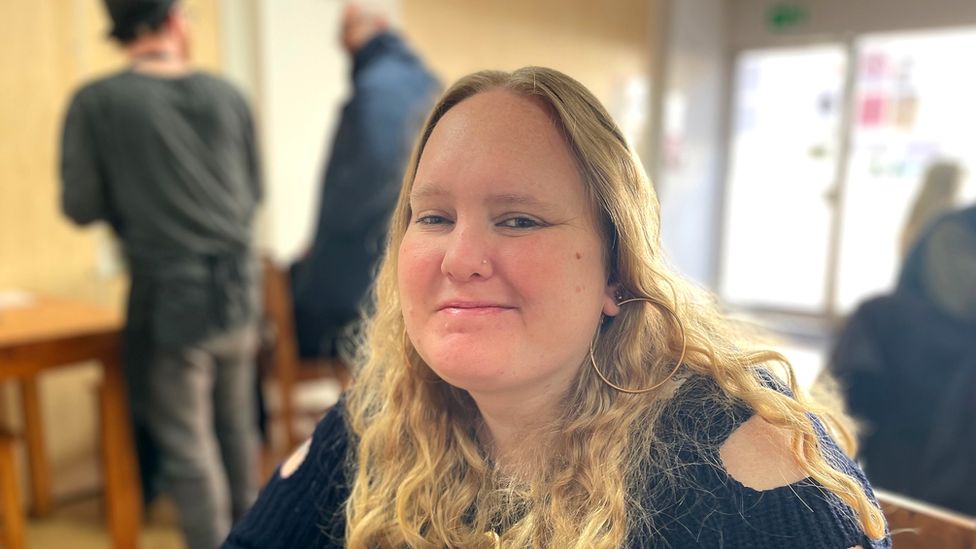 Aaron's wife Jeanette Jones, 34, works as a volunteer at the nearby Sue Ryder charity shop.
"Coming in here has helped me a lot because it gives me the chance to socialise," she says.
"The gas and the electricity prices have rocketed and we are struggling to get by and pay it."
What was recently costing her family £80 a month in energy costs is now costing them £120.
"You struggle then to get daily things like food, such as bread and butter."
She says places like the community cafe have really helped. They usually get a bag of food supplies once a week from the shop.
---
'Safe in a warm environment'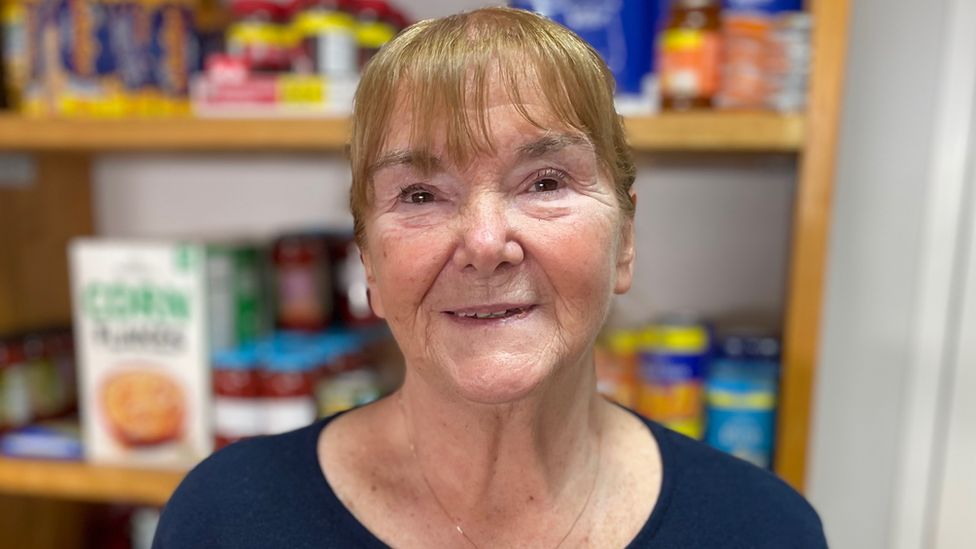 Christine Nice is the manager at the Westraven Community Cafe, which gets some funding from the Big Local Programme.
"We are here for the community and we like people to be able to come in and meet each other, have a cup of tea and to feel they are safe in a warm environment," she says.
"We try to make the prices a little bit cheaper so that it is affordable."
The cafe's pantry is supplied by a number of businesses and organisations so that people can buy food at discounted prices.
"More people are coming and more people are needy," she says.
"It is surprising how many people need these [free food] bags.
"We are doing between 40 and 50 bags a week."
---
'Very frightening'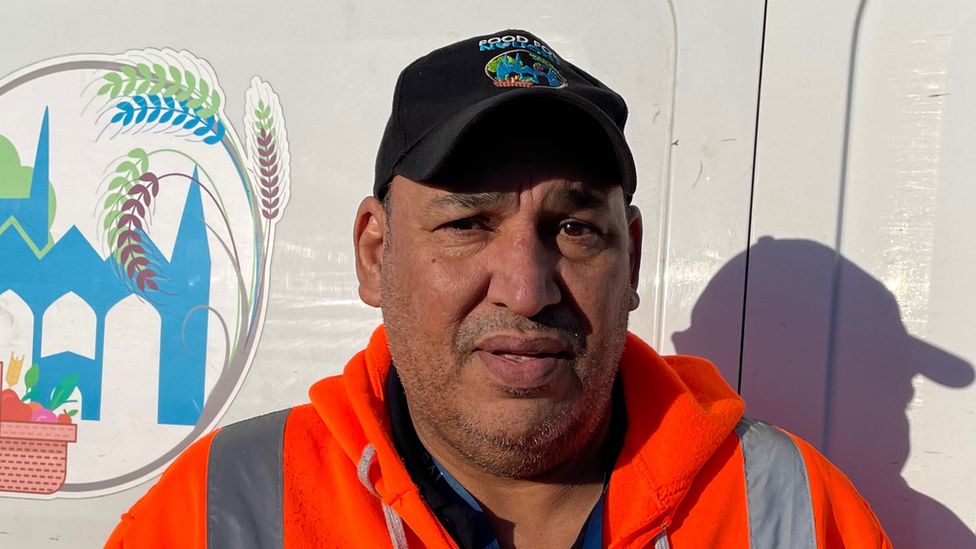 Cocoa Fowler runs Food for Nought, which delivers the food parcels to those who need them.
"The food has come from local supermarkets and farms in the area as excess food from their businesses," he says.
"At the beginning we were feeding about 50 people in the area per week. Since Covid that has at least tripled.
"The cost of living rise is affecting everybody. It is affecting the families and the elderly people we deal with.
"There are more people who are in work or have been furloughed or lost their jobs who have come to us.
"That has increased and that is very frightening."
---
'I understand the pressures' says Chancellor
The inflation rate of 5.4% is the highest it has been since March 1992, when it was 7.2%.
In the past decade it has fluctuated around the Bank of England's target of 2%, until the upward trend beginning in 2020.
Commenting on the rise in inflation, the government's Chancellor of the Exchequer Rishi Sunak said: "I understand the pressures people are facing with the cost of living, and we will continue to listen to people's concerns as we have done throughout the pandemic."
He said the government was providing support worth about £12bn this financial year and next to help families cope.
Labour's Shadow Treasury secretary Pat McFadden said: "These figures show that the cost-of-living crisis is only going to get worse in the coming months.
"Working families are already feeling the crunch. But the triple whammy of an imminent rise in the energy price cap, real wages falling and Tory tax rises coming down the tracks are going to make this crisis even worse."
Originally published on the BBC News website on 20 January, 2022