It is 2019 and Ryan Bruce is sitting eating his lunch during a work break.
On the radio, Mr Bruce, whose rap name is RB Capone, hears Ed Sheeran and Stormzy's 'Take me to London'.
"And I start thinking to myself," he says, "has anybody ever done a song about Corby?"
Corby is a place of contradictions.
For example, despite being named in the Domesday Book and receiving a Royal Charter from Queen Elizabeth I, Corby is also (since 1950) designated a 'new town'.
And despite sitting right in the middle of England, it is known locally as 'Little Scotland' because of the many thousands of Scots who migrated south to work in the steelworks in the 1930s.
The town was devastated in 1980 when thousands of people lost their jobs when the works closed.
Today's Corby is home to more than 50,000 people and is among England's most deprived areas.
Mr Bruce, however, sees a very different Corby, one that cannot be captured by statistical models.
"It is all about the people," the 26-year-old, who has lived in Corby for all but two years of his life, says.
"It is welcoming and is one of the best communities I've ever seen. Other places are often rat runs or a bit up themselves.
"In Corby, most of the people who live here also work here, it is a real town."
After he wrote the song, viewed more than 16,000 times on YouTube, he reached the semi final of a national music competition, which raised RB Capone's profile both within the town and beyond.
"Small Town is known by quite a lot of people and a lot of people know me from it – when they see me they will say, 'there's that Corby rapper'," he says.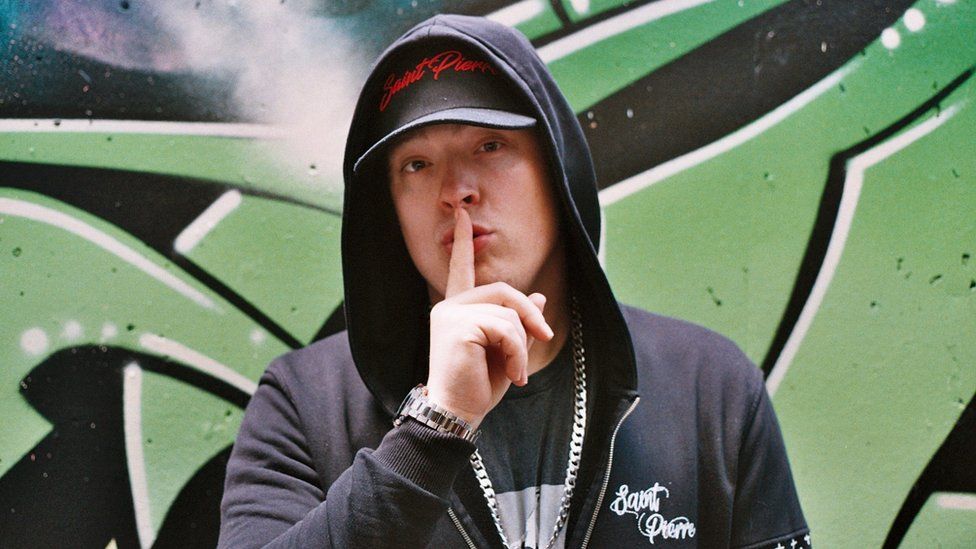 So where did it all begin?
The sister of seven-year-old Mr Bruce had a computer and on that computer were just three songs.
One – by the late American rap artist 2Pac (Tupac Shakur) – had him enthralled, and he listened to it over and over again.
"It was the first song I learned by heart," he says.
Rap was not the only genre in his early repertoire, however. He also knew the words to Celine Dion's 'My Heart Will Go On', and would perform it on request for his mother and her friends.
By the age of 14, however, his interest in rap music had won out, and Mr Bruce began writing and recording his own material.
"One of my friends did it, and I thought if he could do it then anybody could do it.
"However, there were no facilities in this town to use and learn with, so I made do with what I had – I bought a mic and used a laptop and just started putting stuff together.
"I did it off the top of my head, really."
In the 12 years since, Mr Bruce has written more than 100 pieces.
---
C-O-R-B-Y / Rasing the stakes / All the way to the sky / That's Corby/ That's Corby

RB Capone
From the song: Small Town (01536)
---
And while he is very proud of his musical love letter to Corby, he would also like to be known for his work beyond it.
"As much as I like people to listen to Small Town," he says. "I'd also like them to explore my other material."
"For example, I've been working on an album about mental health, drawing both on my experiences and those of others," he says.
"The key to my work is that I only rap about things that are close to my heart."
Keen to expand on his experience of performing on stage, Mr Bruce had a number of gigs in the pipeline when the pandemic hit.
Unlike some musicians, who have had time to focus on their material during repeated lockdowns, Mr Bruce has worked at his store throughout.
He has, however, become increasingly aware of the musical talent that surrounds him – both in Corby, and across Northamptonshire.
"It is such a shame that most of it goes unnoticed," he says.
"There is so much talent here. What would be really great is if a place with studio space allowed people to come in and use it to learn and experiment with."
Rather like the town he comes from, Mr Bruce's ambitions are understated and down to earth.
"I'm not too big on getting famous and all that stuff," he says. "I just want to do music for my job and to make enough to live on and to perform as much as possible.
"Overall, I just want to be recognised for what I can do."
---
This piece was published on the BBC News website on 3 January 2020